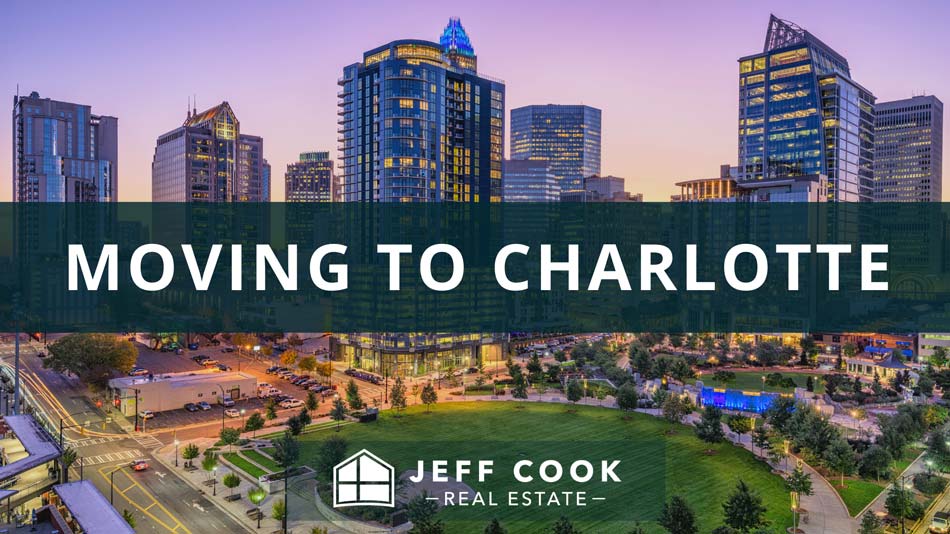 Moving to Charlotte: Charlotte, NC Relocation & Homebuyer Guide
Charlotte, North Carolina has twice been ranked as the country's fastest-growing metropolitan area. With its location almost perfectly between the mountains and the ocean, a climate that enjoys four distinct seasons, and an affordable cost of living, the "Queen City" appeals to nearly everyone. Charlotte is the county seat of Mecklenburg County and has a current population of over 840,000 people. The metropolitan area is much larger, with over 2.6 million people. There are many smaller neighborhoods within the confines of the metropolitan area, making Charlotte a big city with a small-town feel.
Charlotte Cost of Living
The affordable cost of living attracts many people to Charlotte each year, and over 40% of the current residents are from out of state. There are nearly countless districts and neighborhoods within the city from which to choose, including Uptown, Fourth Ward, NoDa Arts District, Dilworth, University City, and Elizabeth.
Housing expenses in Charlotte are 1% lower than the national average. The median home cost in Charlotte is $228,000, which is about $3,000 less than the national average. While average housing costs are lower than similar tech-centric cities like Seattle and Denver, there are plenty of homes in the $500,000 to $1,000,000 range and beyond. A one-bedroom apartment will rent for approximately $1500 per month in the city center, while moving outside the city will save about $500 per month. For a three-bedroom apartment, rent will cost approximately $2500 per month within the city center or $1700 per month outside the city center.
Basic utilities are affordable in Charlotte at around $163 per month for electricity, heating, cooling, water and garbage for a 915 square foot apartment. These expenses are 8% lower than the national average. Likewise, groceries and transportation are affordable and will typically cost below the national average.
Charlotte Job Market
Charlotte has a thriving job market with an unemployment rate in Charlotte sits at 3.7%, which is below the national average. The unemployment rate has steadily declined over the last ten years. The median salary in Charlotte is consistently higher than that in the rest of the United States. The median household income in Charlotte is around $58,000, placing household income higher than the national average.
Once known primarily as a banking center, even now Bank of America is headquartered in Charlotte and employs a number of residents. The metropolitan area is also the home of the East Coast operations center of Wells Fargo, which recently acquired the banking giant Wachovia. Additionally, there are at least seven Fortune 500 companies in the Charlotte metropolitan area. The job market in Charlotte is comprised of employers from all sectors. The job market has increased by 2.7% in the past year and future job growth is projected to be an outstanding 45%. The wide variety and number of jobs in the area attract a large number of new residents to the Charlotte area each year.
Popular Industries in the Area
Charlotte's location makes the city a popular location for businesses. There are multitudinous industries represented in the Charlotte area, making up a diverse business landscape. Top industries represented include healthcare, banking, foodstuffs, packaging, trucking and freight transportation, motorsports, and energy. As a matter of fact, Charlotte houses more bank headquarters than any city in the United States outside of New York. The energy sector industry alone is comprised of more than 240 companies that provide over 25,000 jobs.
Charlotte is also an integral city for the motorsports industry as the home to the only Formula One team in the United States, the offices of NASCAR, the Charlotte Motor Speedway, the NASCAR Hall of Fame and nearly 75% of all NASCAR race teams. No matter the occupation, there will likely be an industry in Charlotte to find employment.
Things to Do in Charlotte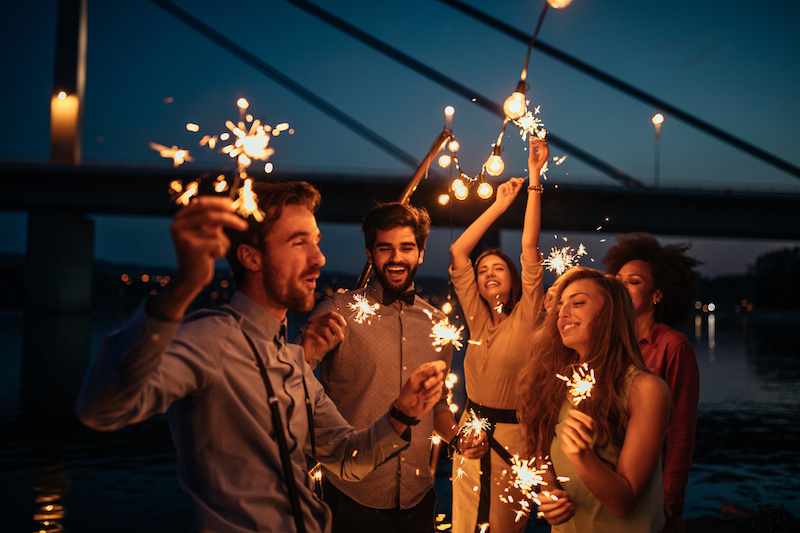 Charlotte is not just a city of businesses. There are plenty of things to do and see besides work. Two professional sports teams call Charlotte home: the Hornets of the NBA and the Panthers of the NFL. Charlotte also boasts minor league teams that play baseball, hockey and soccer. For racing enthusiasts, the Charlotte Motor Speedway hosts several large NASCAR races each year. There are additional opportunities for outdoor recreation like parks and hiking trails.
Charlotte also houses historical sites and museums like the Levine Museum of the New South. This museum does an excellent job of highlighting the history of the Civil War in an interactive display. Charlotte is also home to the North Carolina Transportation Museum and the Bechtler Museum of Modern Art. The Bechtler Museum contains over 1,400 works of art by modern masters like Picasso, Warhol, Chillida, and many others.
Outdoor Activities
There are plenty of things to do either within the confines of the city or within a short drive from Charlotte, because the city is just a few hours from both the beach and the mountains. Near the city, there is whitewater rafting at the U.S. National Whitewater Center, which was built as part of the U.S. Olympic Training Center. This large park spans over 1300 acres and is located on the Catawba River west of the airport. In addition to whitewater rafting, there are also over 30 miles of mountain biking trails and walking trails.
Popular Lake Norman is only one hour north of the city. Lake Norman is 34 miles long, so there is plenty of space for boats, jet skis, kayaks and paddleboards. There are also quite a few golf courses in Charlotte. According to local legend, it's impossible to drive more than 10 miles in or around the city without driving by a golf course.
Restaurants, Breweries, and Bars
In a city as large as Charlotte, there are a variety of popular places to go grab a meal, a drink or a craft beer. With over 30 local breweries, several have earned local and national recognition for their brews including Birdsong Brewing Company, a casual neighborhood brewery where anyone can stop in for a pint of American-style ale; Heist Brewery, which was Charlotte's first-ever craft brewpub; and The Olde Mecklenburg Brewery, which is Charlotte's oldest craft brewery and beer garden. These three breweries are just scratching the surface.
For restaurants, try Haberdish. This restaurant focuses in southern comfort food and prides itself in using local ingredients like flour from a fouth-generation flour mill and cage-free eggs from a family-owned chicken farm. For an upscale dining experience that's perfect for a romantic date or celebration, Dresser's Restaurant is the perfect place to spend an evening.
Nightlife
Despite a healthy professional industrial sector, the Queen City has numerous activities after dark. The Charlotte Symphony Orchestra offers a Summer Pops series outdoors every Sunday in June.
For options like live music, clubs and entertainment venues, the ultimate destination for after-hours entertainment is probably in Center City. There is a multitude of options from restaurants and traditional bars to live music venues, pubs, and more. There are several game bars, like ABARI and Lucky's Bar & Arcade, or even a retro bowling alley called 10 Park Lanes.
Charlotte Climate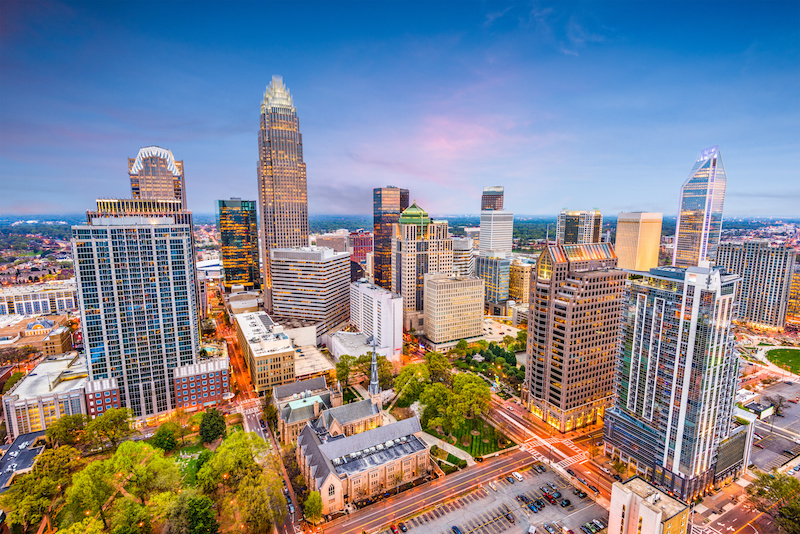 Charlotte is located in the Piedmont region of North Carolina, and the climate is described as a humid continental climate. Residents of Charlotte get to experience all four seasons. While the winter is relatively mild compared to northern cities, the summer is quite hot and humid. The average high temperature in the summer is 89°F, and about one-third of summer days reach 90°F. During winter, half of the nights dip below freezing.
The best months to visit the area are May, September, and October. During these months, the temperatures range from 70-85℉, and the humidity is lower. The coldest month of the year is January, but Charlotte rarely sees snow. Instead, there is the occasional ice storm or sleet. Although Charlotte gets quite a bit of rain each year (averaging 42" per year), the rain is evenly distributed throughout each month of the year. Despite the high annual rainfall, the city enjoys nearly 220 days of sunshine annually. Overall, Charlotte has a 7.5/10 comfort scale index rating.
Charlotte Traffic
Charlotte, like many cities, is known for congested traffic during morning and evening rush hours. If a short commute is important, future residents should try to find a home near their place of work. Because 100 people move into the Charlotte area every day, traffic will always be something residents have to account for when traveling.
The average commute time is just under the national average time at 25.3 minutes, but it is the longest commute time in the state of North Carolina. Officials throughout the State have committed to work to improve traffic congestion by increasing pedestrian safety and adding features to encourage bike travel. There are two major highways: Interstate 77 and Interstate 85, and they intersect near the center of Charlotte. These major highways bring a lot of traffic to the area in addition to daily commuters. The city is circled by the 485 beltway and I-277 loop freeway. These roads help to alleviate road congestion.
Alternative Routes Around Charlotte
Because I-85 can be busy, try taking I-64 or Highway 29 instead. These roads are typically less busy. However, I-85 is busiest when actually in Charlotte, and it clears up significantly as it gets further away. In the day and age of the cell phone and computer apps, drivers have various methods at their disposal to reduce their drive time. There are apps like Waze that will find a path along the back roads and side roads to avoid traffic delays.
Public Transportation in Charlotte
Public transportation is available in Charlotte by the Charlotte Area Transit System (CATS). The service were initiated in 1999 and now carries approximately 320,000 riders through the city each week on 323 buses spread across 73 routes. These riders take advantage of CATS for transportation to work or just around the city. Light rail, streetcar, express shuttles, and buses services the city and the surrounding area.
The LYNX light rail line dubbed the "Blue Line" travels 18.9 miles along a north-south line and transports an increasing ridership each year. At last count, the line transported about 27,000 riders on an average weekday. There are 15 stations along the line, the first of its kind in North Carolina. The newer "Gold Line" has one 1.5 mile streetcar line currently open with another section slated to open late this year. The "Gold Line" provides service from the Charlotte Transportation Center/Arena to Hawthorne Lane & 5th Street.
There are also numerous taxi companies and ride-share businesses in the area in addition to larger bus companies like Greyhound and Megabus. If going green is attractive, purchase a B-cycle membership and ride a bicycle into work or around the city. Memberships are available online, at a B-Cycle Station or through the app and can last anywhere from 24 hours to one year at a time.
Charlotte Schools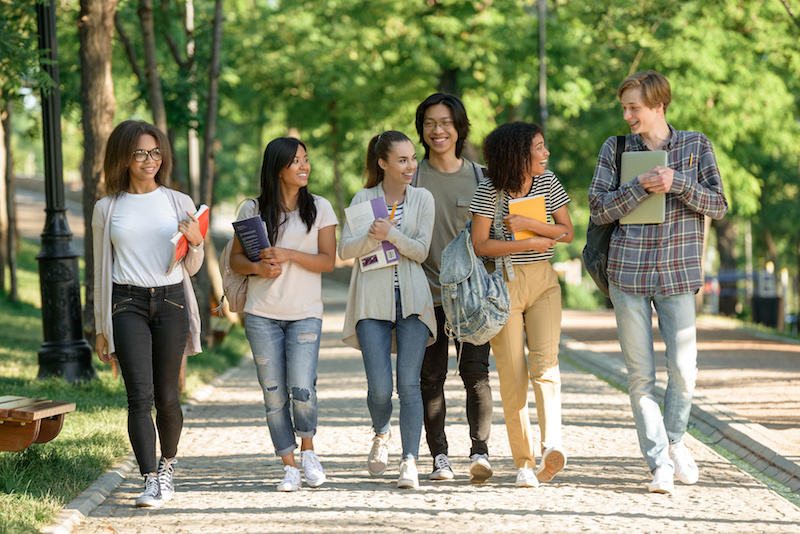 The largest public school district in the area is the Charlotte-Mecklenburg School District. It is comprised of 177 schools and around 150,000 students. The district ranks as the 17th largest school system in the nation. There are also private schools in the area. Several colleges are also based in Charlotte, including Johnson & Wales University, Queens University of Charlotte, and University of North Carolina at Charlotte. In the surrounding area, there are several additional colleges and universities like Davidson College, a top liberal arts school.
Why You Should Move to Charlotte
Unmistakably, Charlotte is a popular place to live and work. There is a pronounced mixture of job prospects and things to do for fun and entertainment. From the sports teams and NASCAR racing to the wide-open spaces in the great outdoors, it is evident why Charlotte is an attractive place to live.