How to Stop a Foreclosure: Get Back on Track & Keep Your Home
Posted by Thomas "Jeff" Cook on Tuesday, June 9, 2020 at 10:39 AM
By Thomas "Jeff" Cook / June 9, 2020
Comment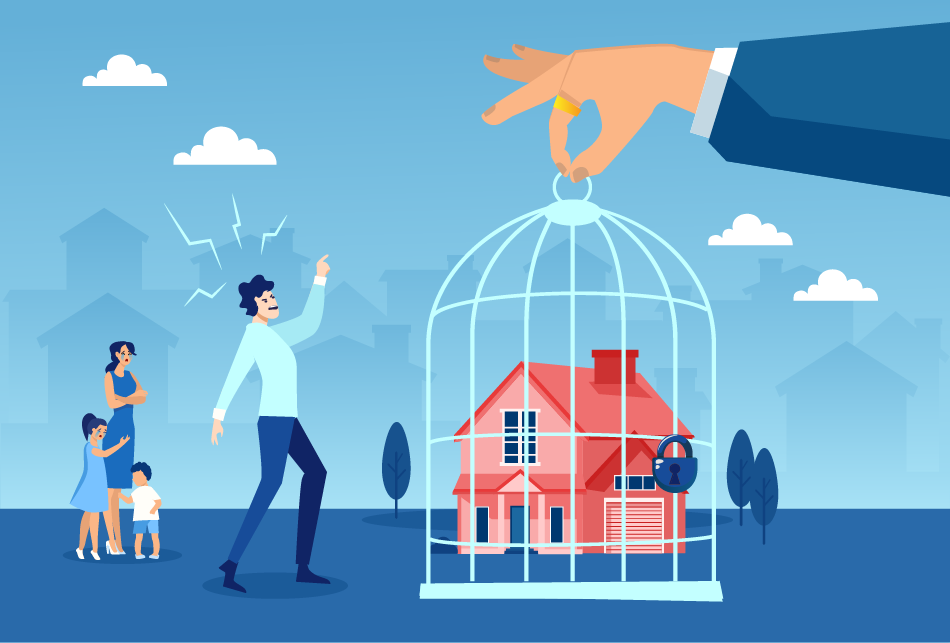 Foreclosure is what occurs when a homeowner defaults on their mortgage payments and the bank begins proceedings to evict them and gain control of the property. Foreclosures can be devastating for a variety of reasons; for any homeowner who experiences the foreclosure process, it can take years to recover financially and in other ways, as foreclosure can cause a homeowner's credit to drop significantly. Fortunately, foreclosures can take months or even years from start to finish, and during that time, the homeowner has the possibility to stop the foreclosure from occurring.
A homeowner who is able to catch up on their payments, refinance their mortgage or reach an agreement with their lender may be able to stop the foreclosure process; therefore, it is important for homeowners to take action immediately. If homeowners know in advance they will not be able to make an upcoming payment, then they must contact their lender. Most lenders are wiling to work with homeowners to help them with an action plan to catch up on their payments.
If an agreement is not reached with the lender, however, there are other steps homeowners can take to avoid foreclosure.
Foreclosure Do's and Don'ts
While experiencing the foreclosure process, it is important for homeowners to remain focused on the tasks at hand that can prevent foreclosure from occurring, as it is easy for homeowners who are uninformed of their options to make mistakes. Generally speaking, the best course of action is for homeowners to maintain open lines of communication with their lender and to take the advice of knowledgeable professionals.
Foreclosure will not disappear if the homeowner ignores the phone calls and inquiries from the lender. Homeowners who are proactive and explore all the possibilities are more likely to come to an agreement with their lender.
Do's
Below are some options homeowners may have to prevent a foreclosure from occurring. Homeowners must follow these suggestions from the first late payment, or even before if they believe they may be in danger of missing a payment.
Contact Lender Right Away
Lenders work with homeowners who contact them from the first moment the homeowner is in financial distress. Sometimes, lenders provide payment relief programs homeowners can take advantage of, which can help them get back on their feet before their situation gets worse.
Understand the Foreclosure Process
The foreclosure process is long and complex and involves many steps; therefore, homeowners who want to protect themselves from foreclosure should first understand how foreclosure works. By becoming knowledgeable of the process, homeowners can anticipate the next steps and identify ways to stop foreclosure from occuring. The more the homeowner knows, the easier it will be for them to navigate the process.
Contact a HUD-Approved Housing Counselor for Assistance
A HUD-approved housing counselor can give advice to the homeowner, which can help them take early action and prevent a foreclosure. Potential topics that a HUD-approved housing counselor can discuss include loan modification and short sale options.
Avoid Foreclosure Rescue Scams
Homeowners in financial distress sometimes fall victim to foreclosure rescue scams. In general, if something sounds too good to be true, it probably is. Homeowners who believe they've found financial help from an unknown organization should investigate and research that organization before proceeding.
Document Communications with Servicer
Foreclosure can be so complicated that many homeowners can easily become lost in the process, forgetting deadlines and next steps. Therefore, they should write everything down to make it easy to remember these deadlines and document all conversations with their lender, including the name of who they spoke with and what they learned in the conversation.
Don'ts
Below are some mistakes homeowners can make in the foreclosure process.
Don't Ignore Phone Calls or Notices
Lenders remain open to communication and will work with homeowners who communicate with them about their troubles. If the lender cannot reach the homeowner, then the homeowner is likely to miss opportunities to stop or slow the foreclosure process.
Don't Wait Until the Foreclosure Is Almost Over to Take Action
Foreclosures are much easier to manage during the early stages. In the later stages, after fees and penalties have been incurred, many homeowners are unable to prevent the foreclosure from taking place. Homeowners who want to stop foreclosure often can only do so by working with their lender from the beginning.
Don't Move Out Early
Most assistance programs require the homeowner to be living in the home to qualify for help. If possible, homeowners should remain in the home until they are required to move out.
Don't Assume the Servicer is Always Correct
Loan servicers make mistakes throughout the foreclosure process, which is why working with a HUD-approved housing counselor can help. The HUD-approved housing counselor will understand the foreclosure process and can help the homeowner catch errors to ensure the homeowner is following the correct procedures during the foreclosure process.
Don't Pay Upfront Fees
Foreclosure rescue companies are often prohibited from asking for a large upfront fee without preventing the foreclosure from taking place. Homeowners should not pay a large upfront fee if it is not necessary. If the rescue company the homeowner is thinking about hiring asks for a large upfront fee, then it is wise for the homeowner to keep exploring other options.
Alternatives to Foreclosure
For homeowners in financial distress, foreclosure is not the only available option. Knowing what alternatives exist can help homeowners explore their options.
Deed in Lieu of Foreclosure
The deed in lieu of foreclosure, also known as a quit claim, is a document that transfers the title of the house to the lender. The document is signed by the lender and notarized. This alternative to foreclosure is generally seen as a simple process compared to foreclosure itself, as it is less expensive for the bank and results in a less direct hit to the homeowner's credit.
Under the right circumstances, many banks will be inclined to accept a deed in lieu of foreclosure. Unfortunately, the circumstances are not always right for this kind of process, including:
There is a judgement or lien against the house that will follow the deed after it is transferred to the mortgage lender.
The terms put forth by the lender are not acceptable to the borrower.
Homeowners who are thinking about pursuing a deed in lieu of foreclosure should ensure that the paperwork releases them from the obligation to pay for any loan deficiency. Sometimes, lenders try to get homeowners to pay for the difference owed between the value of the property and the value of the loan. However, many banks will negotiate this point. Homeowners who cannot afford to pay this amount can work with their lender to prevent this from happening.
Additionally, a deed in lieu of foreclosure can prevent homeowners from purchasing another home for several years after the deed goes into effect.
Partial Claim
Borrowers with FHA loans must pay an annual mortgage insurance premium for their mortgage, equal to about one percent of the loan amount. Most of the time, borrowers must make monthly payments toward the premium, and the money is pooled in an account. Lenders affected by defaulting borrowers can file a partial claim to bring the loan current. The partial claim may be used to pay the legal fees associated with foreclosure, but cannot be used to pay late fees.
Homeowners who want to use the partial claim option must eventually pay that money back. To ensure the money is paid back, HUD files a lien on the home, which will stay until the amount is repaid or until the house sells.
To make a partial claim on a delinquent loan, the homeowner must notify their lender of their hardship. The lender must then analyze the claim to ensure the homeowner does not qualify for the HUD special forbearance program that can give the homeowner temporary mortgage relief.
In order to qualify for a partial claim, the homeowner must demonstrate ability to begin repaying the mortgage. Additionally, the homeowner must have missed no fewer than four mortgage payments and no more than 12.
Forbearance
Mortgage forebearance allows a lender to temporarily reduce or suspend a homeowner's payments on their mortgage for a specified period of time. Forebearance is designed to allow the homeowner time to get their finances situated until they can start making payments once again, and it may be an option for people who are behind on their mortgage payments or about to miss an upcoming payment. Forebearance can be a good option because it allows homeowners to stabilize their financial situation while doing less damage to their credit score.
Additionally, forebearance allows homeowners to stay in their home. Once the forebearance period has ended, the homeowner will need to repay the amount they would have paid during the forebearance period. To repay the amount owed, the homeowner will either have to make a one-time payment, pay an increased mortgage until the amount has been repayed (known as a repayment plan) or make a modification to reduce the past-due amount.
Homeowners who want to apply for a forebearance on their mortgage should gather their financial information to share with their mortgage company, including pay stubs, mortgage statements and monthly debt payments and should be prepared to explain what they are going through, including why they are having a hard time making their mortgage payment and how they will be able to repay after the forebearance ends.
Permanent Hardship
Permanent hardship is a type of repayment program for homeowners who are going through a difficult life situation. During a permanent hardship program, regular payments are made, but the lender may reduce interest to make payments less.
Permanent hardship programs are handled on a case by case basis and usually begin when the homeowner writes a letter to the lender to explain their problem. In the letter to the lender, the homeowner must explain they would like to continue to make regular payments as well as include their request, whether that is a reduction in interest rates or a reduction in payment amounts. In some cases, permanent hardship accomodations involve refinancing the loan.
Either way, permanent hardship programs are designed to help homeowners who want to continue making payments and who do not want to default. It is important for the homeowner to explain they do not want to default on their payment, and the requested accommodations are the best way to ensure the homeowner is able to avoid that.
Short Sale
A short sale is a sale performed even though the home is being sold for less money than is owed on the mortgage. Short sales are a helpful tool for homeowners who are "under water" on their mortgage, meaning they owe more money to the lender than the true value of the home.
In order for a short sale to go through successfully, the homeowner must first apply for their short sale to be approved by the bank. This can be a long process, as banks can take weeks or even months to respond to a short sale application and may take even longer to respond to an offer on the home.
Short sales are considered a better alternative to foreclosure because they can have less of an impact on the homeowner's credit. However, for a homeowner seeking a faster solution to their financial problems, short sales may not be the best option.
South Carolina and North Carolina Foreclosure Intervention
South Carolina's foreclosure intervention process is designed to ensure that homeowners have options when they are facing a potential foreclosure. In order to take advantage of these foreclosure interventions, homeowners must submit an application to the lender, and it is up to the lender to determine whether the borrower qualifies for any of the potential foreclosure alternatives.
Homeowners who choose to participate in foreclosure intervention must be allowed to do so, and the servicer must put aside foreclosure action until the intervention process is complete. Foreclosure cannot take place until:
Notice of foreclosure intervention has been sent.
The lender has reviewed the documents from the homeowner to determine whether the borrower qualifies for foreclosure.
A determination is made that the homeowner does not qualify for foreclosure alternatives and the borrower and lender are unable to reach a settlement.
The notice showing that the homeowner does not qualify for the foreclosure alternative has been mailed and the homeowner has had a specific amount of time to respond.
Additionally, courts may require the homeowner and lender to go through mediation to prevent foreclosure. This mediation process brings the homeowner and the lender together to discuss their problem and reach a resolution that is not foreclosure. For a homeowner in financial distress, foreclosure intervention in South Carolina the best possible opportunity to avoid foreclosure.
In North Carolina, homeowners may have access to counseling and legal aid during their foreclosure proceedings. Homeowners in North Carolina who are in danger of foreclosure should work with their HUD-approved housing counselor to explore the possibilities.
Last-Minute Strategies to Stop Foreclosure
While it is always encouraged that homeowners are proactive from the beginning to stop their foreclosure, sometimes even homeowners who wait until the last minute are able to take advantage of the strategies and services available that can prevent foreclosure. The following strategies may still be able to help.
File for Bankruptcy to Stop Foreclosure
Filing for bankruptcy creates an automatic stay of all debt collection, including collection calls, letters and foreclosure. This happens the minute the homeowner submits the paperwork to file for bankruptcy.
Often, homeowners wait until the very last minute to file for bankruptcy when their home is facing foreclosure, a strategy popular because homeowners are often reluctant to take drastic measures to file for bankruptcy. Additionally, waiting until the last minute makes it possible for the homeowner to extend foreclosure and thus the amount of time they may spend in their house.
Homeowners who file for chapter 13 bankruptcy must go on a payment plan and continue paying their mortgage in order to complete the bankruptcy process.
While filing for bankruptcy to stop foreclosure may sound drastic, many homeowners use this tool to keep their house, get caught up on payments and work out other debts. Most important to remember is that the bankruptcy must be filed before the foreclosure is bought at auction, or the foreclosure cannot be stopped. Homeowners who choose to file chapter 13 bankruptcy will be able to keep their house as long as they can keep up with the payment plan.
Apply for Loan Modification
Loan modification is an alternative to foreclosure that enables the homeowner to reduce their payments and make owning their home more affordable. During the recession, many homeowners applied for loan modification, and their bank continued foreclosure proceedings even while processing their modification application. Whichever process was completed first, whether that was modification or foreclosure, was the ultimate conclusion of the matter and known as dual tracking.
Often, it was the foreclosure process that completed first. Homeowners who believed they were in the process of having their loan modified were shocked when their home was foreclosed. Today, federal law prohibits dual tracking in many cases. In North and South Carolina, homeowners have foreclosure intervention strategies to help them avoid foreclosure. Additionally, laws are structured to prevent homeowners from being foreclosed upon without having access to these intervention strategies.
File a Lawsuit to Stop the Foreclosure
In the event the foreclosing party fails to follow foreclosure laws, the homeowner may sue the lender. It is up to the homeowner to prove the foreclosing party did not follow the proper laws, and working with a lawyer can help them through this process. In states like North and South Carolina, where laws are designed to help homeowners protect themselves from foreclosure, the lawsuit may not be an option.
Homeowners Should Contact Their Lender
Homeowners in financial distress who would like to avoid foreclosure should know their rights, work with a lawyer, know the foreclosure process in their state and work with their bank from the very beginning to discuss potential options that can help them avoid foreclosure.
Not all options to avoid foreclosure are palatable to homeowners. However, by working with a financial counselor and by maintaining good communication with their lender and lawyer, they increase the possibility of saving their home.